We were delighted to be named one of Ireland's Best Workplaces™ in 2021 at the 19th annual Great Place to Work® Awards, which took place on March 10th. Global Shares was listed in the top 20 medium-sized Best Workplaces™.
These awards honour companies with a people-first approach to business, illuminate the impact of caring for their employees in a historically challenging time and recognise
purpose-driven leaders who led their teams through a turbulent 2020.
This is Global Shares' first year to be named as a top Irish workplace, having achieved our Great Place to Work® accreditationin December 2020. Global Shares ranked #17th in the Medium-Sized Organisations category (100 – 250 employees), based on our employee numbers in Ireland.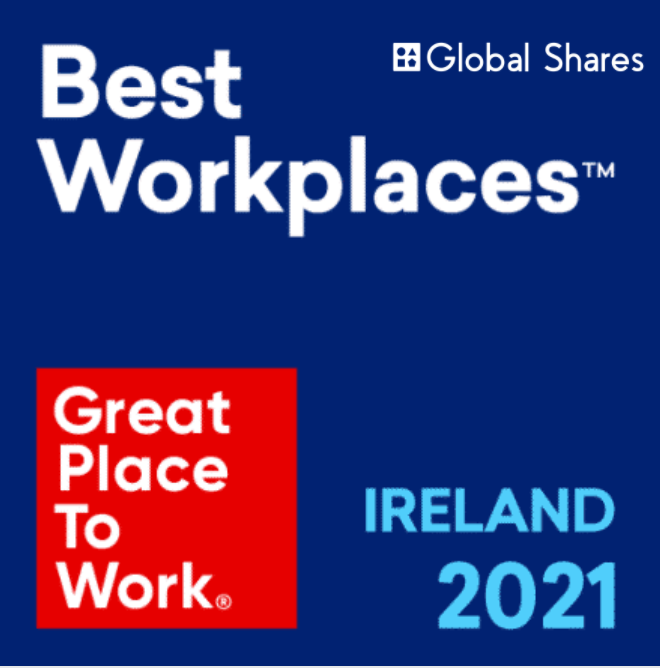 Global Shares
HR Director Stephen Tabb said:
"Reaching the criteria to appear on the list of 'Best Workplaces in Ireland 2021' is a massive achievement and provides a great platform for Global Shares to be recognised in how we differentiate ourselves as an employer. The key defining feature of a 'Great Workplace' is the high level of trust that exists within it. We've got a unique and distinctive culture, which is very people-centric, and is captured in our five core values:
 People: We care about our people
 Bravery: We dare to do things differently
 Global: We are one global network
 Integrity: We are committed to professional integrity
 Service: We are client-focused
Stephen added: "We've also got our very active 'Global Cares' employee wellbeing brand to promote a fun and friendly environment where people genuinely enjoy working and feel inspired to achieve their best.
The Great Place to Work® Institute connects us to a large community of like-minded companies. Their experienced culture consultants advise us of focus areas to help us continue to raise the bar. We know that challenges remain ahead of us but we've got an exciting five-year HR Plan and we'll continue to mature on our journey as an accredited Great Place to Work. On behalf of everyone in Global Shares I'm thrilled to accept this award as one of 'Ireland's Best Workplaces in 2021'.  
Global Shares CEO Tim Houstoun said: "This award recognises all the hard work and dedication our team has shown as we approach the momentous one–year anniversary of working from home, which has been a challenging time for everyone.
Our team have embraced the challenges we've been thrown over the past year, and it's because of them that Global Shares continues to grow and thrive. 
We have some of the most engaged staff in Ireland and it is very rewarding and satisfying that Global Shares is now confirmed as one of the 'Best Workplaces' in this country.
I want to thank every staff member at Global Shares for their participation and commitment and take a moment to thank our fantastic HR team, led by Stephen Tabb, for all the work they do to take care of us. I'd also like to congratulate all of Ireland's Best Workplaces 2021″.
The Great Workplaces Programme operates across 60 countries and is the global authority on workplace culture, workplace excellence and people management practices. For more information on the Best Workplace 2021 awards and the Great Place to Work® accreditation process, please visit the Great Place to Work® website.